Dr. Naman Dahiya is an approachable, compassionate, and skilled gynaecologist who was drawn to gynaecology because of the diverse and complex cases it brings. He is passionate about this area of medicine as it provides him with an opportunity to make a positive difference by assisting patients navigate through stressful times in their lives.
Naman has a holistic and tailored approach to the management of gynaecological conditions. He is experienced in delivering innovative, evidence based medical and surgical treatment options for the management of abnormal/heavy uterine bleeding, fibroids, pelvic pain, endometriosis and pelvic floor disorders. In addition to his clinical practice, he is active in research and education by training junior doctors and fellows.
Naman did the majority of his training in Queensland, spanning from Townsville, where he worked with renowned laparoscopic, uro-gynaecology and oncology surgeons. He continued his training in Brisbane, where he focused his training in gynaecology, fertility treatment and complex endometriosis surgery at Mater Mothers Hospital. Subsequently, Naman moved to New South Wales where he was selected for a coveted laparoscopic fellowship at Nepean Hospital with A/Prof John Pardey and Dr. Luice Wang.
He has obtained his fellowship of RANZCOG and has completed a prestigious two-year Australasian Gynaecological Endoscopy and Surgery Society (AGES) fellowship in advanced laparoscopic surgery and holds the highest level of RANZCOG/AGES accreditation of laparoscopic surgery (level 6). To further enhance his knowledge and skills, Naman completed a Masters of Surgery in Advanced Gynaecological Surgery through the University of Western Sydney.
Naman can provide his patients with a wide array of surgical treatment options such as advanced laparoscopy and pelvic floor surgery. He is particularly interested in the management of complex endometriosis and abnormal/heavy uterine bleeding.
Naman strongly believes that high quality, timely medical care should be provided to all patients and looks forward to working with you to provide you with the best possible outcomes.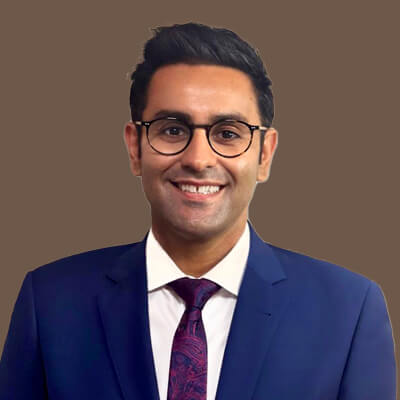 Dr Naman Dahiya, Gynaecologist, Advanced Laparoscopic & Pelvic Floor Surgeon
Specialises in:
General Gynaecology: Pelvic pain, abnormal/heavy uterine bleeding, fibroids, ovarian cysts and management of pelvic organ prolapse.
Colposcopy: Diagnosis, treatment, and management of abnormal pap smears.
Endometriosis and pelvic pain: Medical and surgical treatment for endometriosis and infertility/sub-fertility secondary to endometriosis.
Advanced laparoscopy, minimally invasive – including hysterectomy (including large uterus), endometriosis excision (including stage IV), myomectomy (fibroid removal) and pelvic floor surgery.
Outside of work, Naman is enthusiastic about maintaining a healthy lifestyle and enjoys his time outdoors, from hiking to playing social and competitive tennis and golf. He also enjoys travelling and is passionate about different cuisines and cultures.
What Do Naman's Qualifications Mean? 
Masters of Surgery – Advanced Gynaecological Surgery (UWS):
This course included two years further knowledge and research in specific topics of gynaecology, combined with theoretical and practical knowledge of advanced surgical techniques. This allows Naman to be well versed with evidence based management and treatment modalities for his patients whilst embracing future innovations in gynaecology and surgical techniques.
Fellowship in Advanced Laparoscopic Surgery:
Two-year fellowship, focusing on gynaecological advanced laparoscopic surgery, working with renowned surgeons in New South Walkes across multiple sites, affiliated with Sydney West Advanced Pelvic Surgery group (SWAPS). This fellowship is accredited with the Australasian Gynaecological Endoscopic Society (AGES). Obtaining a certificate of AGES accredits Naman to perform gynaecological surgery at the highest level (level 6).
Fellowship of Royal Australian College of Obstetrics and Gynaecology:
Six-year specialist training which allows Naman to be qualified to practice as a specialist obstetrician and gynaecologist.
Bachelor of Medicine and Bachelor of Surgery:
Naman obtained his undergraduate medical degree from Bond University in the Gold Coast.
Mentorship and Training
Facilitator/Clinical instructor, 2019 and 2021 RANZCOG Basic Surgical Skills Workshop QLD, NSW.
Facilitator/Clinical instructor, 2021 AGES Registrar Laparoscopic skills workshop, NSW.
Associate lecturer, Griffith University and James Cook University 2014 till current. He will be commencing in the position of lecturer at University of Sydney and University of Western Sydney.
AGES Annual Scientific Meeting (ASM) 2021 – Free communication presentations;

Outcomes following segmental resection with vascular preservation (outcomes in cases of stage IV endometriosis cases requiring bowel resection, preserving the blood supply to the large bowel).
Vaginal repair of caesarean section niche (step-by-step procedure of repairing a caesarean scar defect/niche vaginally).

National Fertility Conference 2020 – Guest speaker
Current Positions
Nepean Public Hospital, Staff Specialist in Obstetrics and Gynaecology
Nepean Private Hospital, VMO Gynaecologist
Norwest Private Hospital, VMO Gynaecologist
Memberships and Associations
Fellow of Royal Australian College of Obstetricians and Gynaecologists
Certificate of AGES (Australasian Gynaecological Endoscopic Society)
Member of the Australian Medical Association
Member of AGES (Australasian Gynaecological Endoscopic Society)
Member of AAGL (American Association of Gynecologic Laparoscopists)
Member of SWAPS (Sydney West Advanced Pelvic Surgery)
Clinical supervisor for registrars and junior medical officers and to be training supervisor for RANZCOG trainees from 2023.
Book a Consultation
Get in touch with our practice to book your consultation.