Assisting in your Delivery
Maternal Assisted Caesarean was introduced by A/Prof. Pardey as part of our practice's standard approach, after recognition that women who need Caesarean section, will often feel deprived of choice or autonomy in that situation.
The offer of a Maternal Assisted Caesarean, gives women the choice to express their individuality and their connection to their child in a different way, while still maintaining a surgically safe environment.
Providing that you are in an essentially uncomplicated pregnancy, maternal assisted caesarean section is an option for all of our patients requiring caesarean section as their mode of delivery.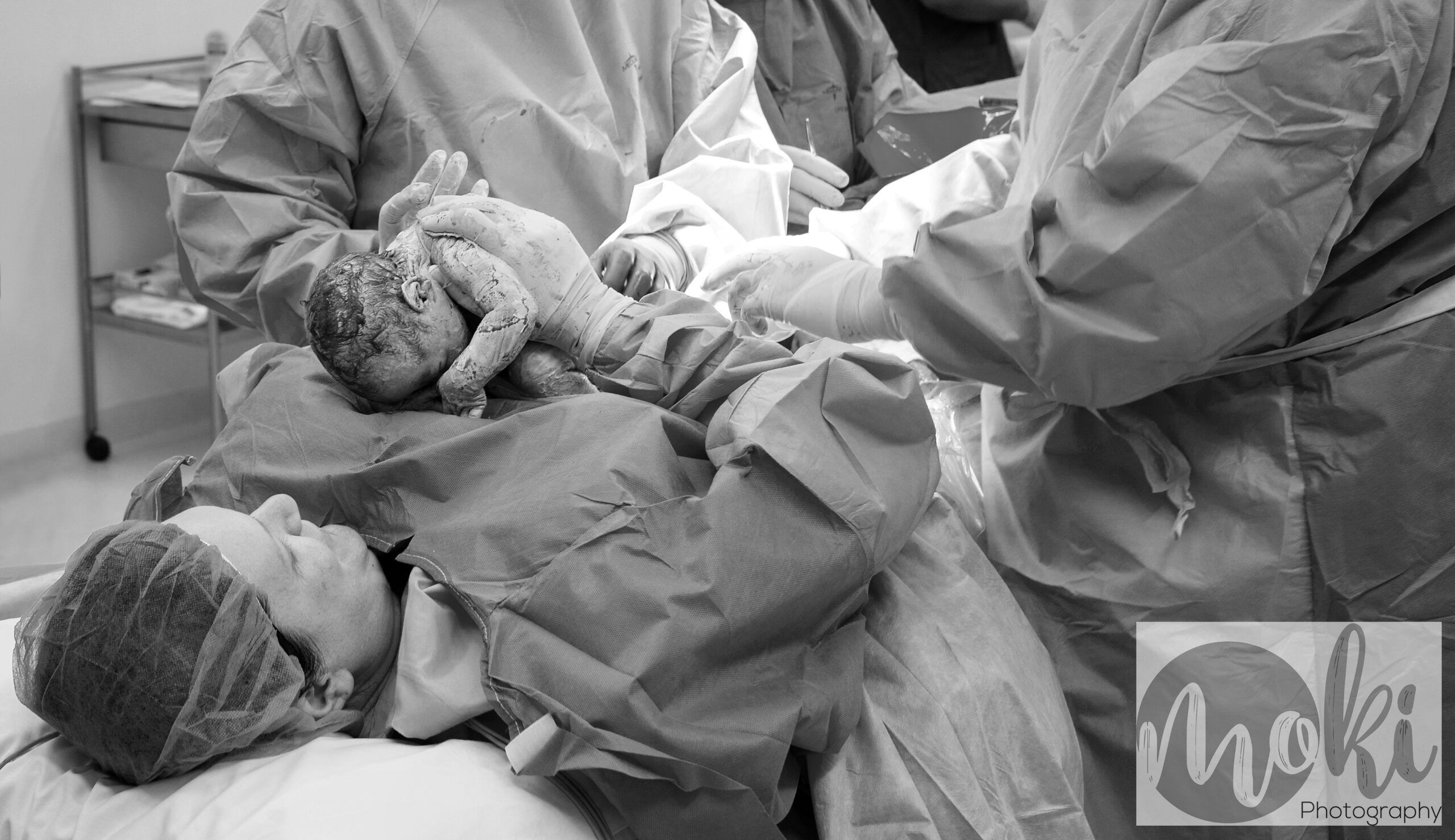 Improved feeling of connection
Maternal Assisted Caesarean had been reported on a sporadic basis, as a "Hollywood event" by some. The response however, has been almost uniformly positive, with our patients reporting that they feel a sense of control and an improved feeling of connection to the child, being involved in the delivery and (where the child is completely well) maintaining skin to skin contact with the child throughout the rest of the procedure.
After our first few experiences, we felt so positive about the result, that we felt that it should be transformed from a "Hollywood experience", to an option available to all women requiring Caesarean Section through our practice.
(The fee for a Maternally Assisted Caesarean Section, is no different from that of a normal Caesarean Section through our Practice).
The procedure
We start by washing your hands and we put a pair of gloves on you to keep your hands clean and sterile while you are having your spinal (epidural) anaesthetic performed. Once the spinal is performed by the Anaesthetist, you are laid on your back and we keep your hands in the air, usually propped on a support part of the bed, whilst we prepare the tummy ready for the caesarean section.
We then take the gloves off you without touching your hands underneath. We put a sterile gown on you as if we were putting a drape on and it is pulled down onto your hands. We then put another pair of gloves on you that are sterile on the outside. Once the gloves and gown are on you can touch one hand to the other to help get the gloves properly seated on your fingers.
We then put the additional drapes on as if you were ready to do the caesarean section yourself, fold them under your chin and put your hands and arms over the top of the drapes so that your hands are within what is known as the operative field.
The caesarean section is then performed in the routine manner. We open the uterus usually from side to side and lift the head and shoulders out. At that point you are asked to reach down, lift and take your baby up to your face. If there are no complications, your obstetrician will allow you to deliver the baby.
Your baby is placed on your chest as we conduct the rest of the procedure. The baby is wrapped in a warm towel and then we aim to keep the baby on your skin from that time forward so that you are not separated from your child at all until you are taken to recovery.
Common conditions in pregnancy are nosebleeds, bleeding gums, dizziness, fainting, constipation and urinary frequency.
Read More.
One of the most common questions asked is what can you do to keep your baby healthy. Most of it involves such things as avoidance of alcohol and cigarettes and appropriate diet. Read More.
Further reading
Learn more about your pregnancy
Obstetrics
Our Specialist Obstetricians will assist and guide you through every aspect of your pregnancy, labour and postnatal care. Read More.
Morning Sickness
Morning sickness is common. The aim of management is to get life to the point where you can cope until time cures you.
Read More.
Fetal Movements
The baby's movements will generally commence somewhere between 16 and 22 weeks of pregnancy, although time varies.
Read More.
your First Visit
At your first visit your obstetrician will take your medical history, and discuss any concerns or wishes that you may have. Read More.
Immunisations
We recommend certain vaccines for women at various stages of their pregnancy, including the flu vaccine and sometimes whooping cough.
Read More.
Congratulations, You're Pregnant!
Congratulations! We hope this will be a rewarding and enjoyable experience for you and your partner. Read More
Book a Consultation
Get in touch with our practice to book your consultation.